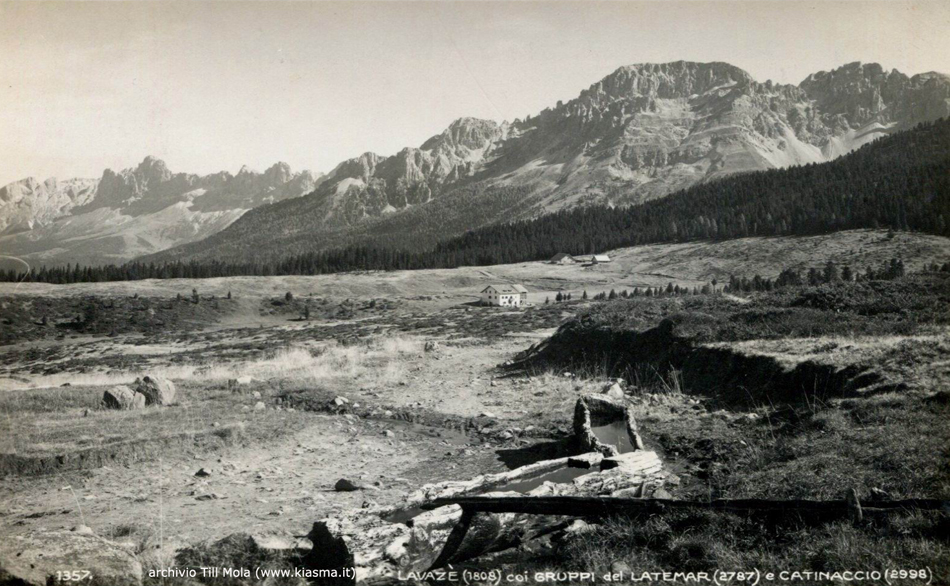 Ho ricevuto questa fantastica foto da meno di 24 ore come scansione da parte di un appassionato collezionista che pur non privandosi dell'originale, dà il suo contributo al presente blog fotografico. La datazione del retro della cartolina (1929) ci aiuta a capire che la foto è sicuramente antecedente, ma non è dato capire di quanto. Certo è che la strada per il passo Oclini era, nella migliore delle ipotesi, una mulattiera. Si vede l'albergo Lavazè senza ancora la casa in pietra vicina. Con questa foto incomincio a nutrire dei dubbi sulla datazione della foto del primo post (questo), nella quale si intravede il tetto di una casa dietro all'albergo Lavazé. Che la divisa del soldato fosse italiana?
Se la divisa è austriaca, la foto è stata scattata entro il 1919. Considerato il tetto della casa, la foto di questo post deve essere stata scattata prima.
C'è qualcuno in grado di aiutarmi?
Ein sehr schönes Panoramafoto von Lavazé. Gut zu erkennen der Gasthof Lavazè (Albergo Lavazè) und die Daiano Alm (Malga Daiano)
A panoramic view of Passo Lavazè. The card has been posted in 1929.