I miniassegni furono un particolare tipo di denaro che circolò in Italia alla fine degli anni settanta in sostituzione degli spiccioli che in quel periodo scarseggiavano e che fino ad allora erano stati sostituiti da caramelle, francobolli e gettoni telefonici.
I primi miniassegni fecero la loro comparsa nel dicembre del 1975 (il 10/12/1975 da parte dell'Istituto Bancario San Paolo) e successivamente vennero emessi da molte banche; avevano il valore nominale di 50, 100, 150, 200, 250, 300 e 350 lire. Furono chiamati così perché erano assegni circolari ma più piccoli di quelli normali.
L'escamotage con cui le banche aggirarono il divieto di emettere moneta (prerogativa esclusiva delle banche centrali) fu quello di emettere dei veri e propri assegni circolari di piccolo taglio intestati ad enti e società; in teoria gli stessi sarebbero dovuti circolare con le varie girate dei soggetti che ne entravano in possesso, ma in pratica venivano scambiati di mano in mano come se fosse vera e propria moneta corrente.
Fu una vera e propria invasione. Ne circolarono oltre 800 tipi diversi per un ammontare stimato in oltre 200 miliardi di lire, e probabilmente fu un affare colossale per le banche dato che moltissimi di questi pezzetti di carta andarono distrutti, anche a causa della pessima qualità della carta, o finiti in mano ai collezionisti o ancora dimenticati in qualche cassetto. (Fonte Wikipedia)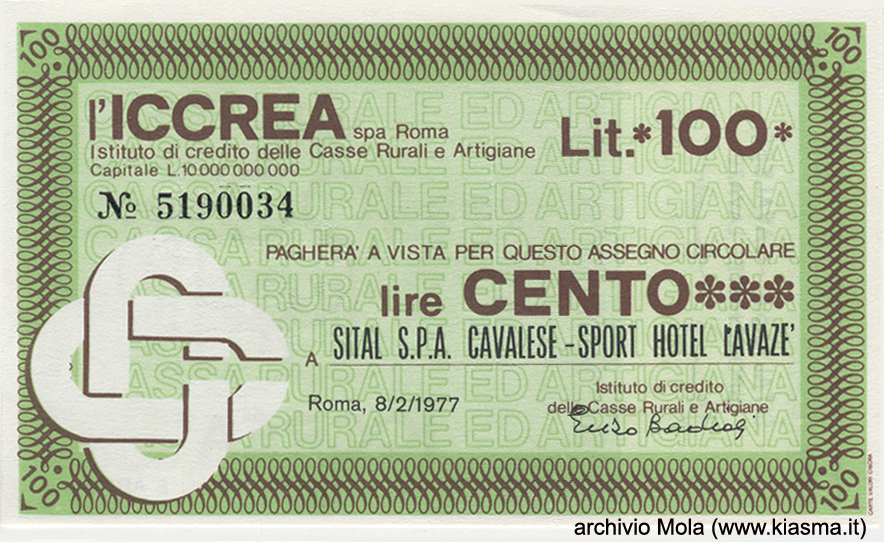 Mini-Schecks vom Lavazejoch: Mitte der '70er Jahre ging Italien das Kleingeld buchstäblich aus. In Ermangelung der Münzen gaben Kaufleute ihren Kunden Bonbons statt "Zehn-Lire-Stücke" . Die Banken halfen dem Mangel ab, indem sie "Mini-Schecks" druckten , die auf 50 bis 350 Lire lauteten . Erst Ende der siebziger Jahre warf die staatliche "Münz-Anstalt" genug Kleingeld auf den Markt.
Mini-cheques of Passo Lavazè. In the mid seventies the Italian government run out of coins. Banks invented the mini-cheques.